Sandals Royal Barbados
100% Luxury.
100% Exclusive Suites.
100% Paradise.
Considered the crown jewel of the Sandals Resorts portfolio, Sandals Royal Barbados is just that: a royally-superb time set in one of the world's trendiest destinations.
In one of the world's top jet-setter destinations, this resort features endless unique features like rooftop infinity pools, a bowling alley, a gourmet donut shop, and one of the best surf and turf dishes in the Caribbean.
With a 15,000 square foot spa, jaw-dropping ocean views, and full privileges to Sandals Barbados resort next door, a stay at Sandals Royal Barbados is a dream come true for many.
Don't miss this exquisite digital brochure about paradise: Sandals Royal Barbados!
When you're in paradise, here's some of what you can expect:
Premium Sandals All-Inclusive Concept
Unlimited Access to all Sandals Barbados Offerings
All-Suite Accommodation
Sandals First Rooftop Infinity Pool
4 Full-Service Bars – Including Swim-Up (+7 at Sandals Barbados)
Short Included Transfers – Close to Airport
Unlimited Land & Water Sports (Including Snorkel/Scuba for PADI)
7 Global Gourmet Restaurants ( +11 at Sandals Barbados)

Butch's Steak & Seafood
Chi Asian Fusion
American Tavern
La Parisienne French Cuisine
Neptunes Mediterranean Seafood
The Jerk Shack
Sweet N' Salty's Gourmet Donuts & Coffee

Club & Butler Level Suites Available
4-Lane Bowling Alley
Beachfront Glass Infinity Pool
Unlimited Premium Room Service
Swim-Up Suites Available
Top Butler Suites – Rolls Royce Transfers
Exclusive Club Sandals & Departure Lounges
…and so much more!

Questions? Please get in touch; I'm here to help!
I've filmed a 360° virtual reality experience of Sandals in Barbados – just for you! Take a look here! 
(P.S. – This is best viewed in the YouTube app directly in landscape. Some mobile browsers do not support the 360° functions where you can look in all directions.)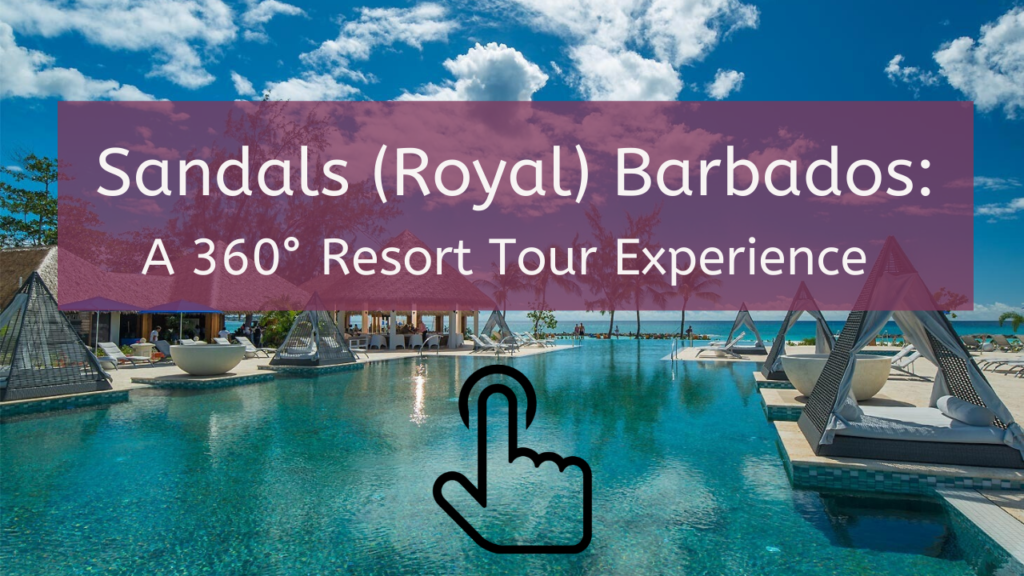 You are now able to view the shelf brochure…right from your device! If you are on a mobile device, I recommend viewing it in landscape mode to see a larger picture.
Don't miss this exquisite digital brochure about paradise: Sandals Royal Barbados!
CLICK HERE for a 360° resort photo tour.