Sandals Butler Service: Butler Elite
If you're looking to add that extra special touch to your stay at Sandals, consider a top-tier suite with Butler Elite service.
For those looking for "cheap", this won't be the suitable option. Rather, Butler Elite service is for discerning guests who appreciate superb quality and attention to detail.
Ranging from rather affordable Butler Suites at Sandals Ochi to the very prestigious Over-The-Water Butler Bungalows at a resort like Sandals South Coast, there is a wide array of options to suite all tastes and desires.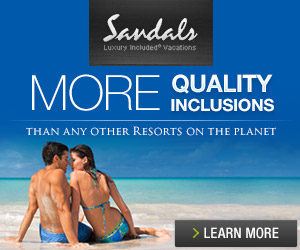 When you choose the finest selection at Sandals Resorts, you'll take advantage of the most premier suites on property, dedicated butlers trained by the Guild of Professional English Butlers, luxurious in-suite decor and amenities, 24 hour room service, and so much more.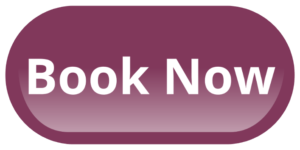 Here's a quick video to watch about Sandals Butler Service:
The list of benefits with Butler Elite services is endless, but here is a sample of just a few highlights of Butler Elite as quoted from Sandals:
Upon arrival:
Greet you with lemongrass-scented hand towels to refresh you from your flight.
Offer welcome cocktails and culinary treats.
Escort you to your suite and coordinate luggage handling.
Provide you with all information regarding hotel facilities.
Handle private check-in comfortably in your suite.
Orchestrate any personal accommodation preferences.
Supply a cell phone to reach him/her when needed.
Provide a private resort orientation.
Offer to unpack your luggage.
Press your first nights clothes complimentary.
During your stay:
Make all dinner reservations, tour bookings, on property activities and spa treatments for you.
Serve you your favourite drinks while you lounge on the beach or pool.
Serve you lunch on the beach or on the pool.
Liaise with housekeeping regarding the servicing of your suite.
Ensure that your suite is kept in perfect condition and arranged the way you like during your stay.
Expedite all room service orders.
Ensure your table is arranged in the restaurant of your choice for dinner.
Arrange a perfect romantic dinner for two in the privacy of your suite or your patio. Unlike our competitors, our butler elite guests can order from any resort restaurant menu for dining in their room or suite.
Shine/clean your shoes for dinner.
Tend to your wardrobe.
Collect and return all laundry for you.
In the evening:
Bring you amenities before dinner.
Escort you to dinner where they have reserved a beautifully decorated table at the restaurant of your choice – with preferential seating.
Ensure your suite is turned down and your room has all it needs for the night.
Before your departure:
Arrange transportation back to the airport.
Provide you with information regarding check out.
Assist you in folding your clothes for packing.
Retain all your preferences for future visits.
At departure time:
Ensure your bags are brought up to the departure area.
Escort you to the Club/butler lounge and process your paperwork for check out.
Escort you to your transportation and bid you farewell.
Weekly activities:
Weekly Cocktail Party.
Butler guests are invited to all Club Sandals Activities.
In-room inclusions:
Distinct Club Sandals room key (Butler Elite Key).
His and hers plush robes with bed slippers.
24hr Room Service.
In-suite bar stocked daily with sodas, juices, water, and your choice of Robert Mondavi Twin Oaks® wines and premium liquors.
Luxurious, custom solid-mahogany furnishings.
Fine Egyptian cotton linens and pillow menu including feather down pillows in all rooms.
Coffeemaker with Jamaican Blue Mountain coffee.
Free Wifi in all rooms and public areas.
NOTE:
In addition to all of the Butler Elite inclusions, butler guests will have access to all the Club Sandals amenities and weekly activities.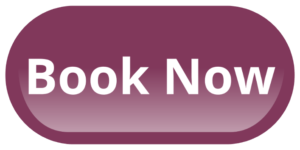 Ready to learn more about the life of Butlers and their guests? One thing you'll quickly find out about Sandals butlers is that they LOVE their jobs – it is considered a great privilege to work at Sandals on many Caribbean islands and being a butler is often the coveted job of the island!
Here's a lighthearted video for you about Sandals Butler Elite services, guided by Rorey the Butler:
Now, shall we take a look at some Butler Suites at Sandals?
To begin, this is the most popular Butler suite at Sandals and it is definitely about price. At Sandals Ochi you can sometimes grab a Butler Suite for cheaper than a lead-in room at other resorts. As such, the Butler Village Poolside One Bedroom Villa Suite is actually the most popular room we sell!
You'll notice that this suite is missing some the amenities of the more updated resorts like tranquility soaking tubs and is a more traditional, mahogany Jamaican style of suite. We've found, though, that for many guests who want Butler Elite on a budget, this can be a great option; after all, Sandals Ochi is the largest Sandals resort with endless activities and even 16 fine dining restaurants! For those who enjoy the classic room style and want the breadth of options in the resort, a Butler Suite at Sandals Ochi just might be perfect!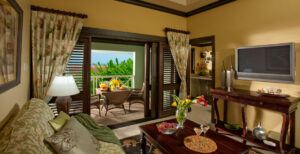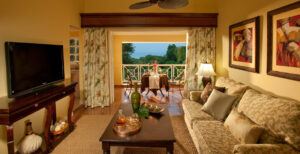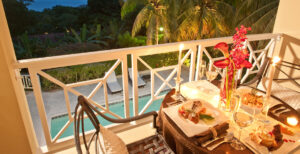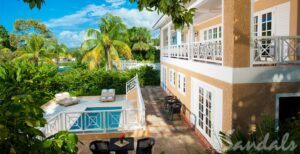 Stepping it up a notch into high-end and exclusive luxury, prepare to be dazzled by some of these suites! They definitely cost a few more pennies, but for that ultra-luxury experience or that special occasion, you certainly won't be disappointed.
In fact, Sandals has a wonderful trademark of "Love Nest Suites" for their top, dazzling suites! Here's a tempting video about these amazing options!
Inspired yet?!
Well, allow me to show you three top-tier suites which made me fall in love.
First, I'm pleased to introduce the Beachfront Grande Rondoval Butler Suite with a Private Pool Sanctuary located at Sandals Grande St. Lucian. While a few other resorts have rondoval-type accommodations, I'm quite partial to the style here in Saint Lucia.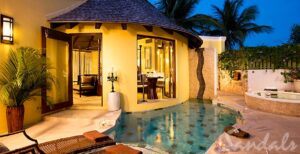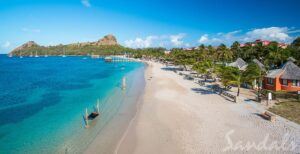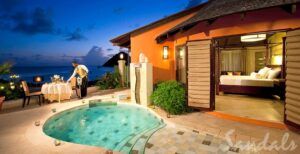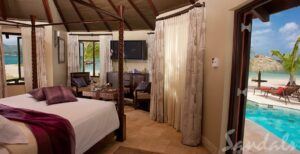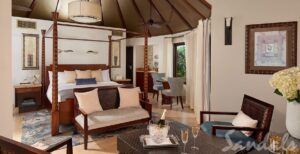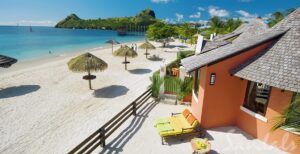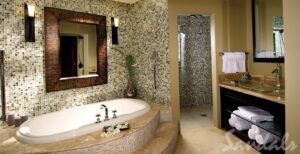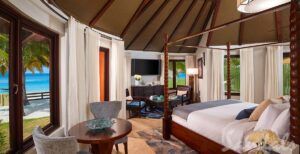 Next up is an equal contender in it's own right. The stunning Sandals Grenada is known for the gorgeous suites through the three categories, but none better than their Italian Oceanview Penthouse Skypool Butler Suite.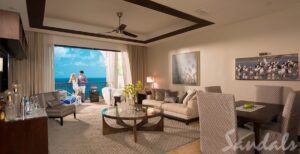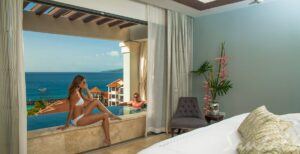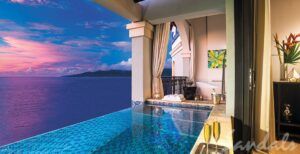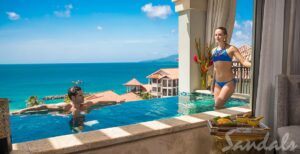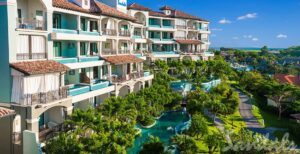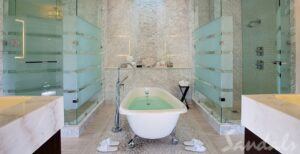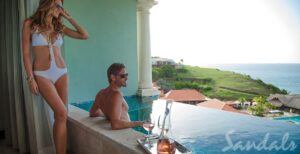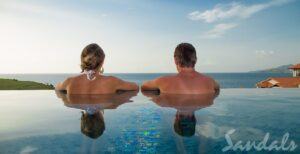 Finally, a suite at the exclusive Sandals Royal Barbados – the Beachfront Prime Minister One Bedroom Butler Suite. No words required – just wow!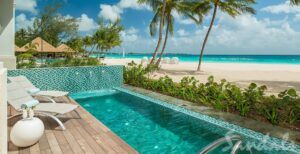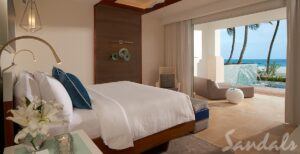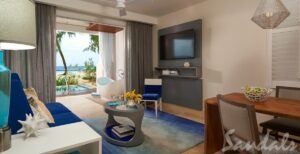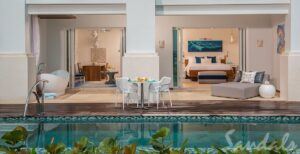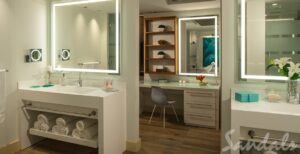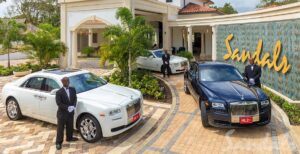 Did I say just 3 of my top suites?! Oh. I've actually saved the best for last!
Did you know that Sandals is famous for bringing Over-the-Water Bungalows to the Caribbean? While you'll also find bungalows similar to these at Sandals Grande St. Lucian and Sandals Royal Caribbean, I'd love to show you this ultra-exclusive option at Sandals South Coast.
If you'd like to know more about these, do get in touch and let's talk. There is so much to say about these Over-the-Water options, but so little space here.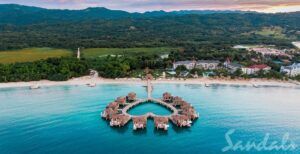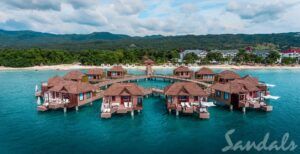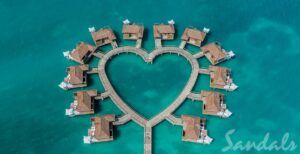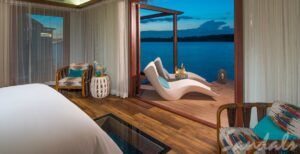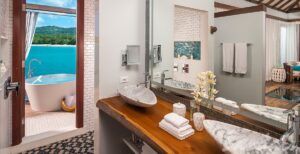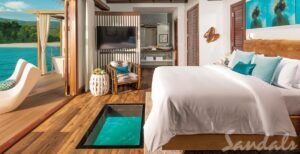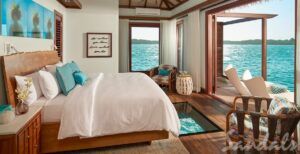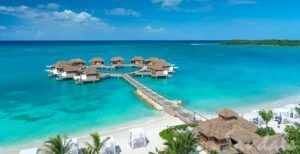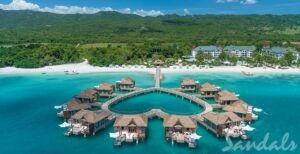 After all this information, I'm sure you have some questions – right? I would be delighted to chat and answer any questions you might have!
Simply click here to contact me; I'm at your service.
P.S. – If you're looking for something ultra-exclusive, and very private with discretion, just let me know. I have access to some very prestigious accommodations such as Fowl Cay Villas (owned by the Sandals Chairman) on a fully-serviced private island off the coast of the Bahamas.