Luxury Accommodations
At the entry level of accommodation at Sandals, you'll still be living in luxury. For those wanting to experience Sandals but the purse strings are a bit tight, this might be a suitable option. Keep in mind that this level will vary from resort to resort. For example, Sandals Ochi entry level rooms could use a refurbishment, so if you're taking the entry level room, you're choosing this for the massive resort amenities over the room. However, somewhere like Sandals Grenada has luxury level rooms that are gorgeous – perhaps even more beautiful than some upper level suites at other resorts.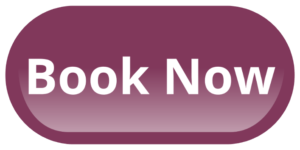 Even at the lowest price point, here are some of the benefits you will typically find at this level:
Sandals Customized Tranquility Blissful King-Sized Beds & Mahogany Frames
Daily Turndown Service
Premium All-Inclusive Benefits
Access To All Restaurants
Air Conditioning
Large Backlit Mirrors
Bellman Services
His/Her Vanity Setup
Spa-Style Bathrooms
Mini-fridge (Sodas, juice, water, etc)
Let's take a look at a few of these entry-priced rooms, shall we?
Now, as mentioned above, the one resort I recommend definitely steering clear of luxury rooms is at Sandals Ochi. If you don't care about the rooms and just want the cheapest resort experience possible, this will be a fine option for you; however with the small price upgrade to the significantly-better Club Sandals and Butler Elite experiences, I think this is definitely the way to go at Sandals Ochi.
Here's a sample of the entry-priced room at Sandals Ochi and, well, actually the entire Sandals resort brand. This is the Great House Luxury room: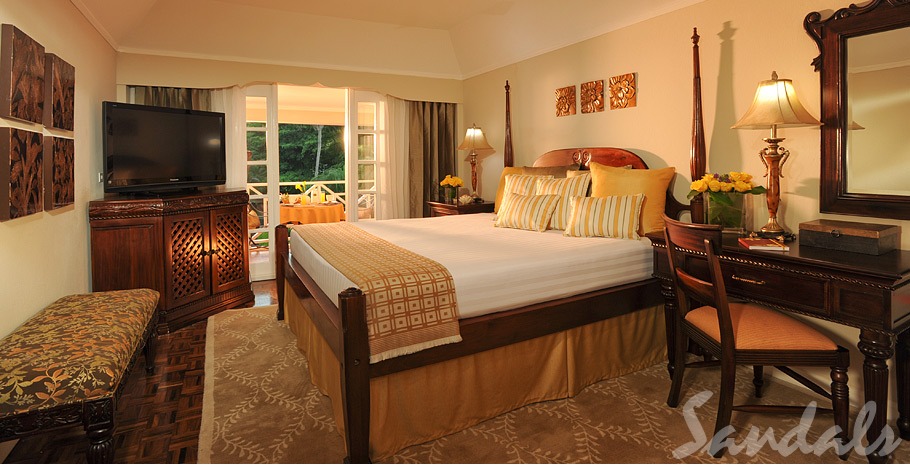 As you can see in the below photo, however, even with this room, you still have a considerable amount of amenities:
Some of the resorts also have well-updated rooms at the luxury level.
Contrasted to the more traditional, dated style above, here's an example of the lead-in luxury room at Sandals Negril, the Caribbean Deluxe room: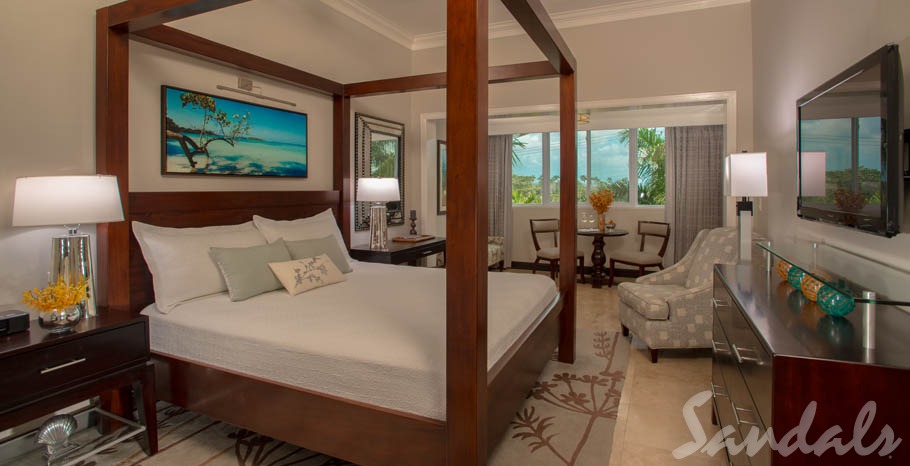 Similarly, here's a sample of my #1 luxury level room at any Sandals resort, the South Seas Waterfall Walkout Junior Suite at Sandals Grenada: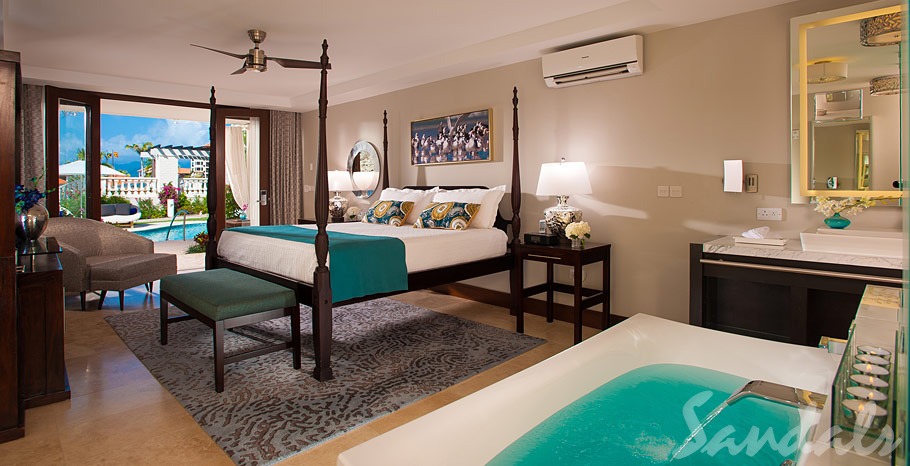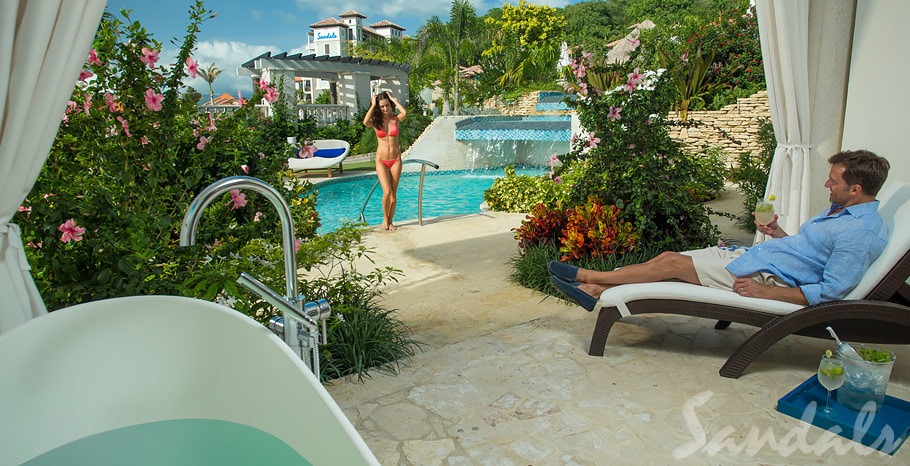 A Summary:
For those that are very price-sensitive but desiring the Sandals experience, this is a great way to indulge in the luxuries of Sandals without breaking the bank. Do note that the lead-in experience will be a bit different at every resort – just compare the first Sandals Ochi room to the above Sandals Grenada option. These are definitely at two different price points, but offer different experiences.
My personal experiences in selling Sandals resorts is that the vast majority of my clients will choose the Club Sandals or Butler Elite experience. Even if it means saving up a bit longer or cutting back on a couple of day-to-day luxuries, many couples find that the higher-level rooms and vast array of added amenities at the upgraded levels is worth the small additional investment.
Questions? Do let me know; I'd be delighted to help!