Want to know which watersports are included at your favorite resort?
Know you know!
You can zoom in on the picture below or use the scroll-chart beneath.
This list is scroll-able left <-> right.
Please note that while I do my best to keep this list updated, these are subject to change without notice.
I hope this helps! 🙂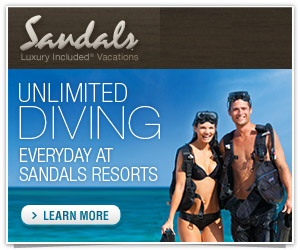 Sandals & Beaches Watersport Chart
| | Snorkeling | Sailing | Windsurfing | Paddle Boarding | Glass Bottom Boat Rides | Aqua Cycles | Banana Boat Rides | Kneeboarding | Wakeboarding | Tubing | Water Skiing | Kayaking | Snuba | Scuba Diving |
| --- | --- | --- | --- | --- | --- | --- | --- | --- | --- | --- | --- | --- | --- | --- |
| Beaches Negril | ✔ | ✔ | ✔ | ✔ | ✔ | ✔ | ✔ | ✔ | ✔ | ✔ | ✔ | ✔ | ✔ | ✔ |
| Beaches Ocho Rios | ✔ | ✔ | ✔ | ✔ | ✔ | | ✔ | | | ✔ | | ✔ | ✔ | ✔ |
| Beaches Turks & Caicos | ✔ | ✔ | ✔ | ✔ | ✔ | ✔ | | | | | | ✔ | ✔ | ✔ |
| Sandals Montego Bay | ✔ | ✔ | ✔ | ✔ | ✔ | | | ✔ | | ✔ | ✔ | ✔ | ✔ | ✔ |
| Sandals Royal Caribbean | ✔ | ✔ | ✔ | ✔ | ✔ | | | | | | | ✔ | ✔ | ✔ |
| Sandals Negril | ✔ | ✔ | ✔ | ✔ | ✔ | | | ✔ | | ✔ | ✔ | ✔ | ✔ | ✔ |
| Sandals Royal Plantation | ✔ | ✔ | ✔ | ✔ | ✔ | | | | | | | ✔ | ✔ | ✔ |
| Sandals Ochi | ✔ | ✔ | ✔ | ✔ | ✔ | | | | | | | ✔ | ✔ | ✔ |
| Sandals South Coast | ✔ | ✔ | ✔ | ✔ | ✔ | | | ✔ | | ✔ | ✔ | ✔ | ✔ | ✔ |
| Sandals Grande Antigua | ✔ | ✔ | ✔ | ✔ | | | | | | | | ✔ | | ✔ |
| Sandals Regency La Toc | ✔ | ✔ | ✔ | ✔ | | | | | | | | ✔ | | ✔ |
| Sandals Grande St. Lucian | ✔ | ✔ | ✔ | ✔ | | | | ✔ | | | ✔ | ✔ | | ✔ |
| Sandals Halcyon Beach | ✔ | ✔ | ✔ | ✔ | | | | ✔ | | | ✔ | ✔ | | ✔ |
| Sandals Royal Bahamian | ✔ | ✔ | ✔ | ✔ | | ✔ | | | | | | ✔ | ✔ | ✔ |
| Sandals Emerald Bay | ✔ | ✔ | ✔ | ✔ | | ✔ | | | | | | ✔ | | ✔ |
| Sandals Grenada | ✔ | ✔ | ✔ | ✔ | ✔ | | | | | | | ✔ | ✔ | ✔ |
| Sandals Barbados | ✔ | ✔ | | ✔ | ✔ | | | | | | | ✔ | ✔ | ✔ |
| Sandals Royal Barbados | ✔ | ✔ | | ✔ | ✔ | | | | | | | ✔ | ✔ | ✔ |