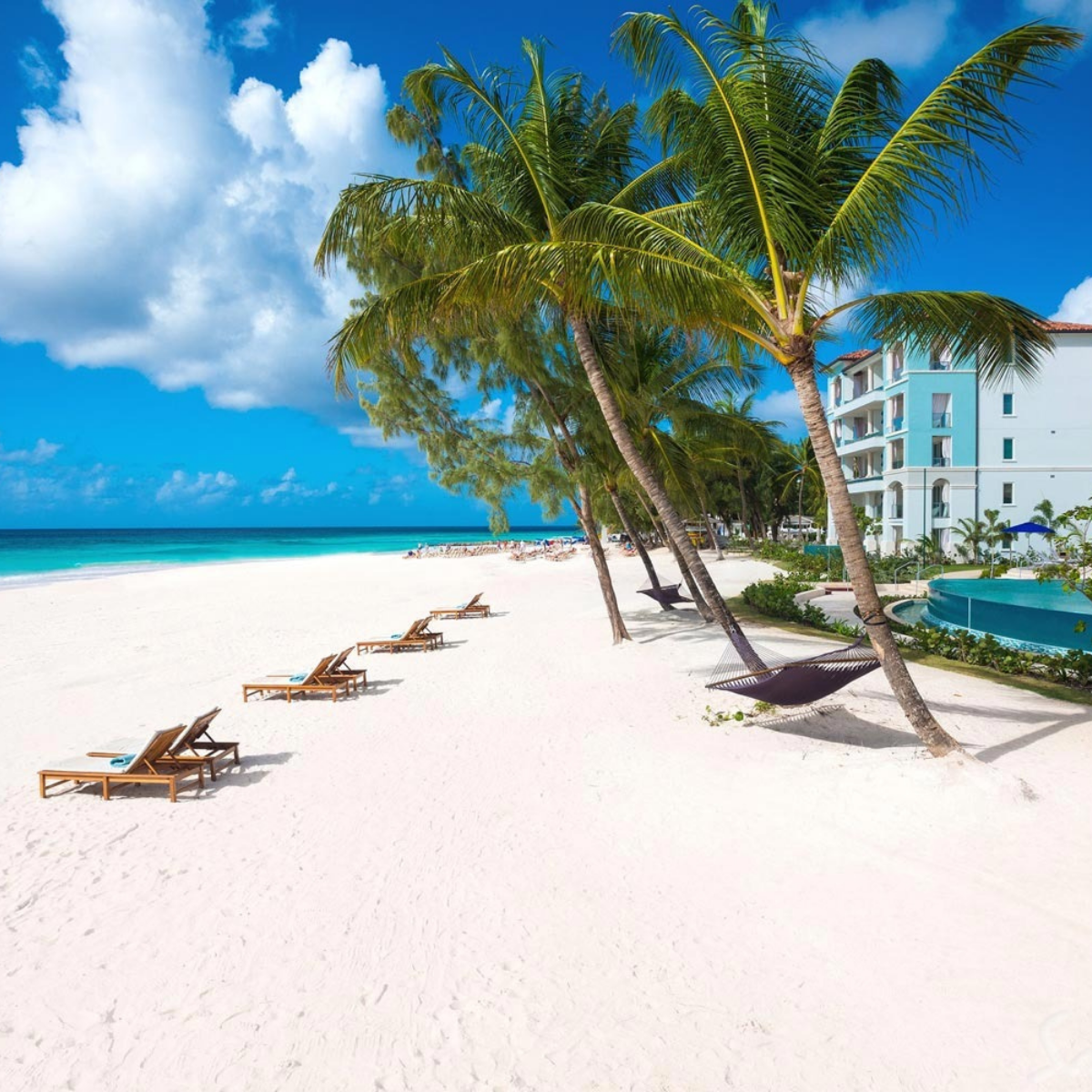 "Hey, Addison! What is the best Caribbean all inclusive resort?!" 
Yup, this is a question I hear almost daily.
Over the years, I've had the pleasure of touring, well, the bulk majority of 4* and 5* resorts across the Caribbean. I've seen gorgeous resorts that make my jaw drop…and I've also toured resorts where I needed a shower and full-body cleanse thereafter.
Here, let's take a peek at what is the best Caribbean all-inclusive resort. Let's break it down together.
[Don't have time to read?! Skip to the bottom for my short answer!]
All-Inclusive – A Concept With Many Meanings
As with many tourism terms, we hear the term "all-inclusive" thrown around in so many contexts. Officially, all-inclusive is full board plus drinks, meaning the resort should provide food for breakfast, lunch, dinner and at least "some drinks." However, take a look at how different the below scenarios are:
Resort 1: A tattered 3* resort in Jamaica with guests of all ages and a basic buffet that doesn't rotate the menu – minimal activities included.
Resort 2: A gorgeous 5* resort in Turks and Caicos that is dedicated to families with the highest 5* luxuries – all activities inclusive with watersports.
Resort 3: A 4* adult-only resort in Mexico that was created to be prestigious, but is overrun with college party groups of student drinkers who would be underage in the USA.
Resort 4: A 5* innovative resort in Grenada that is both couples-only and premium all-inclusive with all activities included such as motorized watersports.
Now, for each individual searching for their next Caribbean adventure, one might find themselves choosing any of these alternatives based on budget and chapter in life.
To better rank my best all-inclusive resort, I need to set some basic criteria. To do so, I'm going to consider the best all-inclusive resort for a middle-aged couple based on the following factors:
Location
Adults-Only / Couples-Only
Activities Included
Quality of Dining
Luxury Amenities
Value for Money
A Worthy Brand, A Worthy Resort
In a sea of independent resorts and "superbrands" like Secrets, Couples, Bahia Principe, will the resort I rank the best fall under one of these?
For me, there's not a brand in the Caribbean I haven't sampled, which has solidified my decision.
And the winner is…Sandals Resorts!
Excluding the fact that Sandals has been ranked the world's #1 all-inclusive resort brand for 24 years in-a-row, I've fallen in love with the brand due to the sincerity of service, understanding of what creates a luxury environment, and the majestic inclusions.
When deciding my favorite, or the "best", it is a close tie for me: Sandals Grenada and Sandals Royal Barbados.
However, with the 6 criteria I listed below, we have a winner in Sandals Royal Barbados.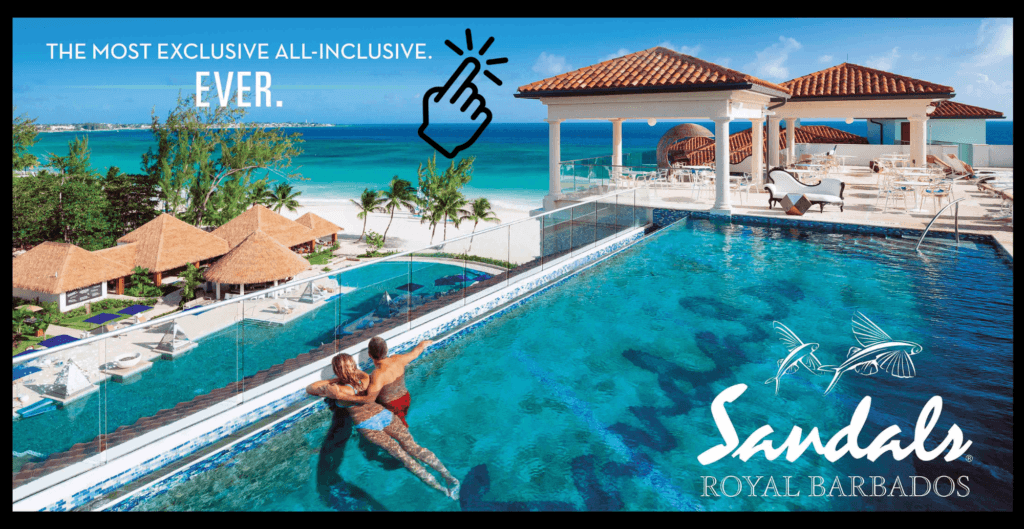 Location
With a 2-in-1 resort setup, Sandals Barbados and Sandals Royal Barbados are situated along the award-winning white powdery sands and stunning blue water of Maxwell Beach. Located just minutes from the Grantley Adams International Airport (BGI) and near the heart of the capital city of Bridgetown, you couldn't ask for a more premium location.
Adult-Only Concept
In the era of adult-only resort popularity, Sandals is not only adult-only, but couples-only. With very few exceptions (like a single mother of a bride for a wedding), to visit to Sandals, you need to be a couple, or…at least pretend. 🙂
Compared to other adult-only brands, many overflowing with "adult" teenagers in overly-intoxicated drinking groups, at Sandals you'll find a brand focused on exclusive luxury and couples romance. After all, the official slogan is "Love Is All You Need."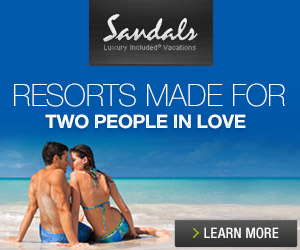 For me, even when touring respectable adult-only brands like Secrets, I can't help but notice that something is amiss: that special couples-focused romance vibe with all the associated flair.
At Sandals Royal Barbados, you'll find both young and old couples and, occasionally, small groups of couples celebrating together. You can exclusively spend romantic time with your loved one or befriend another couple in the resort to partake in dining or the massive array of activities. At this resort, the choice is yours!
Included Activities
Are you the type that likes a lot included in a package? If so, you don't need to look further than SRB. In fact, while there are other resorts that have "more" restaurants and activities, you'll likely not find a selection as premium as this location – particularly for the value.
For activities in particular, there is a wonderful selection – all included!
Here's just a sample of what you'll find at this stunning resort – inclusive, I might add:
Kayaks
Canoes
Paddleboards
Hobie Cats
Windsurfing
Underwater Glass Bottom Boat
Boogie Boards
Snorkeling
PADI Scuba Diving
Moreover, there's so much more than watersports when it comes to activities. From volleyball, cricket, board games, table tennis, and pool, the list goes on and on!
Did you know that Sandals Royal Barbados even features the Caribbean's only included multi-lane bowling alley?! Of course, this Lover's Lane Bowling Alley would NOT be complete without it's famous Lover's Lane Craft Beer Bar serving 20 ice-cold craft beers in a wraparound style.
All included?
Heck yeah.
Oh, and entertainment? Where do you begin?! From bar-specific entertainment to resort-wide themed evenings like white parties, chocolate buffets, and professional live music, it's impossible to be bored. With something for everyone, this really is paradise.
Quality of Dining
Ok, I'll bite. Dining is perhaps my favorite part of a good resort. For me, the rest of a resort could be brilliant, but if we're missing that critical element of high quality dining, that's a major letdown for me.
Alas, I know I'm not alone in this, so you might appreciate that this rating is one of my most important features in my top rating of Sandals Royal Barbados.
While you can view a full list of included restaurants on the Sandals Royal Barbados and Sandals Barbados pages, there are a few champions that really deserve a shout-out.
Butch's Steak & Seafood
I'm not shy in admitting that I'm a foodie. In particular, I love steak and seafood – but it needs to be high-quality. So, what if one could eat at a Michelin-quality steakhouse as much as they wanted with their Sandals package? Sounds pretty amazing to me.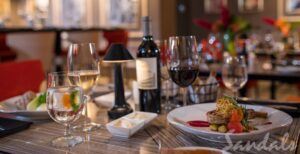 At Butch's (named after the famous founder of Sandals, Gordon "Butch" Stewart), you'll be delighted with top cuts of beef and a wide array of seafood. From filet mignon to grilled monkfish, the menu is full of top-rated delicacies. In fact, click here for a sample of the deliciousness that lives on the menus (note: not sure why there's no lobster on this sample menu, but I've had lobster every time I've dined at Butch's – a few islands do have seasonal lobster-replenishing restrictions, though – FYI.)
Here's a photo I snapped a few months back of one of my tasty Butch's experiences (filet mignon with lobster tail – pardon the cut, I got so excited, I cut in before thinking to photograph haha!):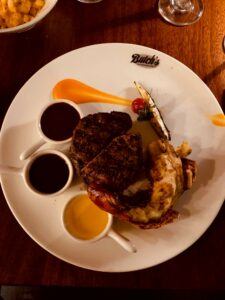 Sweet N' Salty's Gourmet Donuts & Coffee
Another must-eat which would be a sin to neglect to mention at Sandals Royal Barbados is their exclusive Sweet N' Salty's.
In fact, almost any words I saw on this will be inadequate, so I'll just leave you with this photo and a sample menu. Just remember…it's all inclusive. Start dieting now!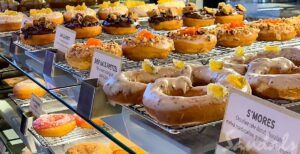 Check out this mouthwatering sample menu. 
You'll find a full list of other delicious restaurants at this resort here.
Luxury Amenities
At a Sandals resorts, there are three different categories of luxury: Luxury, Club Sandals, and Butler Elite. As you might imagine, the luxury and amenities increase, accordingly. However, because Sandals Royal Barbados has only the top two tiers, all guests start out with a massive range of amenities not found at many other resorts.
Some standard inclusions that would be the same at any Sandals resort include the fine dining, unlimited land and watersports, premium bars, gorgeous suites, resort transfers, stunning beaches, and a wide array of entertainment.
However, at Sandals Royal Barbados one receives all of this, but so much more! As an all-suite resort, guests take advantage of the extensive concierge services that come complimentary with Club Sandals benefits. From resort orientations and a dedicated lounge to upscale suites with high quality amenities and exclusive activities, the list goes on and on.
As it that's not enough, all Butler Elite suites take advantage of dedicated butler services and larger suites with top-shelf in-room bars.
Sandals uses the trademark "Luxury Included" when describing packages as that is exactly the premise of an experience at Sandals – a stay with Sandals includes luxuries many other resorts wouldn't.
The best part for me? These extra services and amenities aren't given with a grudging heart; the staff are typically full of smiles and joy. Yaaa man!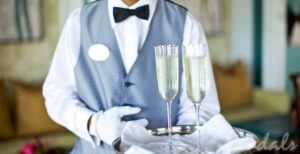 Value For Money
Let's cut to the chase: Sandals Royal Barbados isn't cheap. Heck, no Sandals resort is cheap. Indeed, I'd argue no resort worthy of a special occasion will be so. However, we're looking at the category of "best" here and, in particular, value for money. Now is my opportunity to emphasize that value for money is not equivalent to cheap when it comes to ranking quality resorts.
Rather, I define this value in terms of what's included and the attentiveness of luxury with any given package.
When examining 5* resorts across the Caribbean, there are a lot of stunning resorts out there that are "cheaper." This, however, doesn't make this better value for money to me.
On the island of Barbados you can easily pay 5x what Sandals Royal Barbados costs, but are those guests receiving more? Not really. At some point, there's a cap on what you receive for your money; unless we are talking about super-exclusive private islands for those with a high net worth, one would struggle to find a resort that offers more included at an "special-occasion budget" for us "everyday folk".
When I visit this mesmerizing resort, I can go with the confidence that I can have as much fine dining as I want, unlimited activities, have dreamy views, and be in utter romantic bliss with my every need cared for. With the nicest suites, nicest restaurants, nicest amenities, and nicest views in the Sandals portfolio, the slightly higher price tag is acceptable.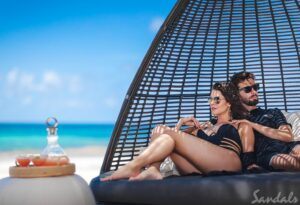 So, Sandals Royal Barbados is the best all-inclusive resort in the Caribbean?
We all know that rankings are subject to opinion, but for me, the answer is a resounding YES based on the 6 criteria we set at the beginning of this post (with a couple of close contenders like Sandals Grenada).
Summary: I rank Sandals Royal Barbados the #1 resort in the Caribbean when averaging the features of location, adult-only, included activities, quality of dining, luxury amenities, and value for money.
Would you like to know more about this resort or perhaps something else Caribbean-related?
I'm a proud Caribbean specialist and would love to help you find something amazing, whether it's for a honeymoon, anniversary, another special occasion, or just a lovely trip together as a couple.