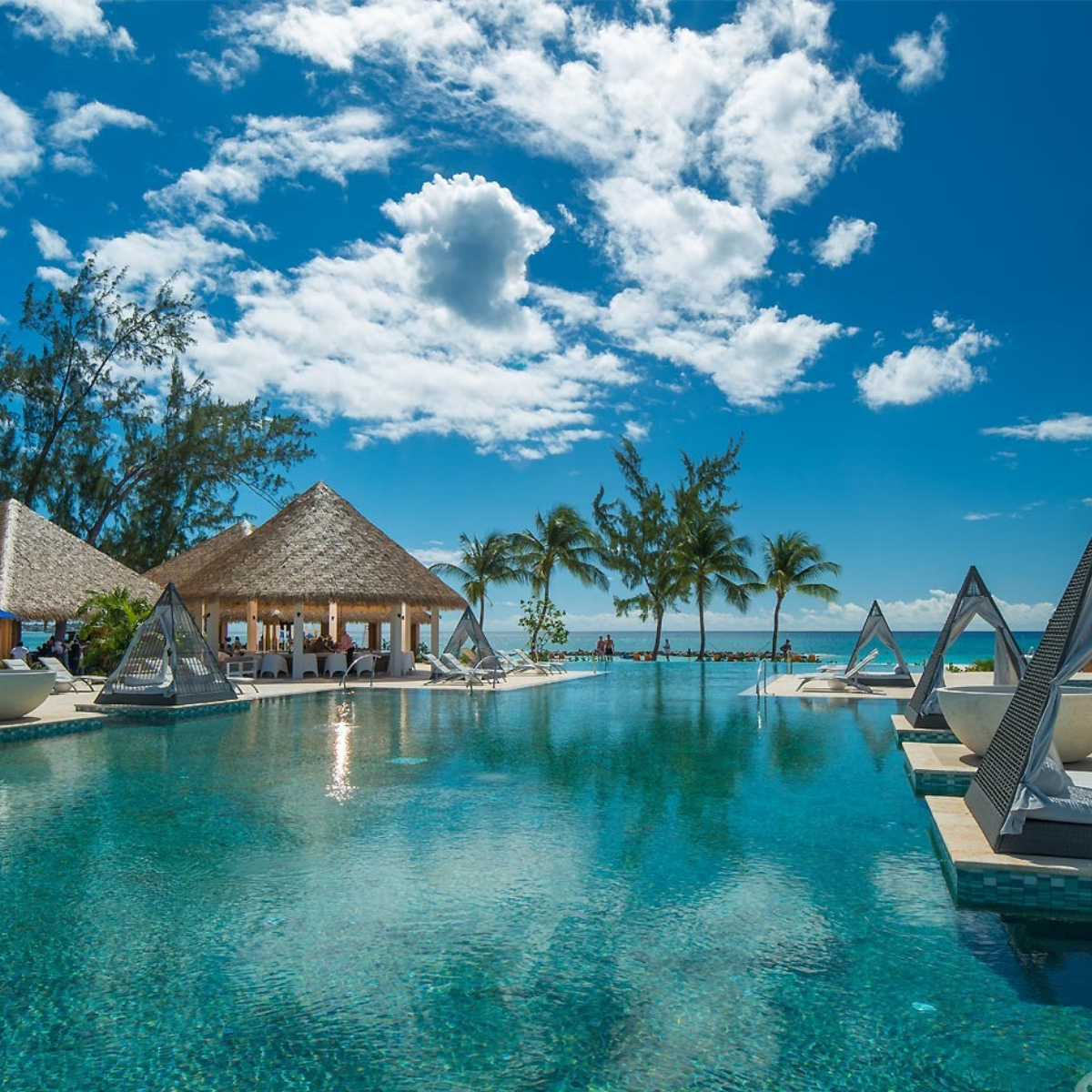 The Best Rated Sandals Resort
So, you've discovered Sandals Resorts.
However, with 15 options to select from, however will you choose?!
When looking to book your next special vacation, you want to find the perfect destination – a desire which often leads to searching online for something like "What is the best rated Sandals Resort?".
With an endless wealth of information to sift through about these mini paradises, I'm delighted to simplify your search.
In this blog, I will cover three aspects in deciphering which Sandals Resort is the "best rated": reviews, unique features, recommendations from my personal experience.
In a hurry? Just scroll down to the bottom of this blog for my "top ranked" conclusion summary!

Reviews
Reviews can be a funny thing and I always encourage travelers to take them with a "grain of salt."
Sandals guests are very discerning and often demanding; with the brand welcoming hundreds of thousands of guests per year, there are due to be issues arise (as with anywhere), which is why I suggest looking at averaged numbers rather than individual reviews.
We humans are vicious: we'll post a negative review if we had to wait a second because we locked ourselves out of our room, but it takes a mind-blowing experience to take time to leave a positive review.
I feel that in this situation, reviews are best looked at holistic averages comparing resort-against-resort.
Luckily, I've done the hard work for you!
For reviewing a resort, the top two websites are TripAdvisor and Google.
Below, I've listed these for you in ranked order for both of these sites.
Before we do that, though – 2 quick notes.
First, note that most of the resorts have had refurbishments since their openings which mean that the rankings do include many pre-renovation reviews.
Secondly, it is only fair to mention that with COVID, every travel brand in the world has suffered an onslaught of angry reviews from people who never got to visit who were impatient with refunds, amendment availability, call queues, etc.
As these both affect these numbers slightly, it is worth a quick mention.
Understanding the above points, I would suggest that you can add around 0.2/5 to each of the below figures to adjust.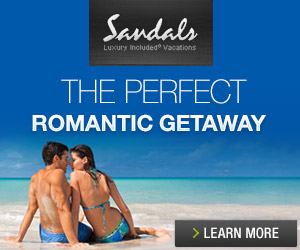 TripAdvisor Rankings (out of 5) 
Sandals Royal Bahamian – 4.0
Sandals Montego Bay – 4.5
Sandals Royal Caribbean – 4.5
Sandals Negril – 4.5
Sandals South Coast – 4.5
Sandals Ochi – 4.5
Sandals Royal Plantation – 4.5
Sandals Emerald Bay – 4.5
Sandals Regency La Toc – 4.5
Sandals Grande St. Lucian – 4.5
Sandals Halcyon Beach – 4.5
Sandals Grande Antigua – 4.5
Sandals Grenada – 4.5
Sandals Barbados – 4.5
Sandals Royal Barbados – 4.5
Google Rankings (out of 5)
Sandals Royal Bahamian – 4.2
Sandals Emerald Bay – 4.3
Sandals Regency La Toc – 4.3
Sandals Royal Caribbean – 4.4
Sandals Grande Antigua – 4.4
Sandals Barbados – 4.4
Sandals South Coast – 4.5
Sandals Ochi – 4.5
Sandals Halcyon Beach – 4.5
Sandals Montego Bay – 4.5
Sandals Negril – 4.5
Sandals Royal Barbados – 4.5
Sandals Royal Plantation – 4.6
Sandals Grande St. Lucian – 4.6
Sandals Grenada – 4.6
Thoughts On These Numbers
We definitely see two very interesting sets of rankings with the TripAdvisor and Google charts.
What can we see from it?
Surprisingly, TripAdvisor's users have placed every single Sandals Resort at the same ranking with one notable exception – Sandals Royal Bahamian, which takes a 0.5/5 dive from the rest.
It also seems that Sandals Royal Bahamian hasn't been shown grace by Google users either, coming at the bottom of that list as well. While I've visited this resort and can attest that it is a decent resort, I can certainly understand why it isn't ranked high as some.
It's safe to say that Royal Bahamian won't be our winner for our best-of-the-best competition.
For me, there are no surprises here. Resorts such as Sandals Grande St. Lucian and Sandals Grenada topping the charts are definitely worthy positions.

Unique Features
If you haven't visited Sandals before and see the above ranking figures, it's likely you feel that we haven't made much progress on the determination of "best rated."
Since we have several that are ranking high on the more-varied Google list, I think it is only proper that we have a quick peek at a few of these resort's selling points – what makes them unique!
Here are just a few of my favorite features that you can find at the various resorts:
Swim-Up Lagoon Suites
At a selection of Sandals resorts, you will find winding Crystal Lagoons in front of select buildings, offering the ground-floor suites stunning swim-up features.
You can find these with both a secluded private feel and gorgeous beachfront views.
These suites can be found at the following resorts:

Private Pool Suites
Sandals kicks it up a notch with their famous private pool suites.
With stunning interiors and open concepts, these suites feature pools exclusively for the couple in love.
These come in a variety of shapes and sizes and can be found at:
SkyPool Suites
For those desiring innovation and exclusive luxury, Sandals signature SkyPool Suites are truly mesmerizing.
Sliding bedroom doors open to a stunning infinity plunge pool against the sea's horizon.
These truly remarkable suites offer a special experience to the discerning couple.
Sandals' exclusive SkyPool suites can be found at:
Rooftop Pool
For those seeking innovative luxury, Sandals Royal Barbados steps it up yet again.
With their famous (and massive!) beachfront glass infinity pool, the resort takes it a step further with a rooftop infinity pool.
Located directly next to an included, premium bar specializing in liquid nitrogen cocktails, its a hidden gem in paradise.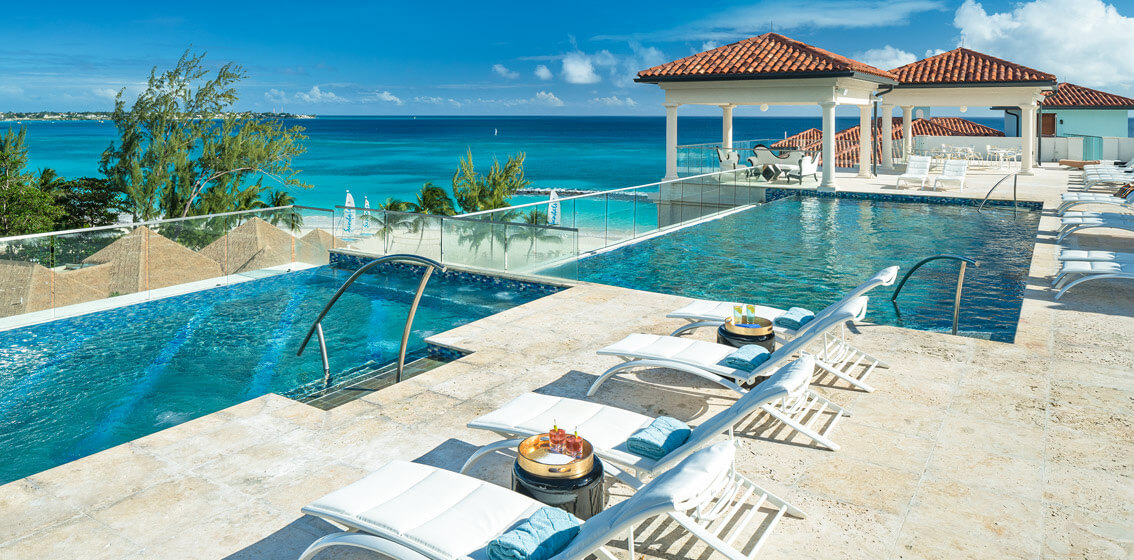 Rondovals
At selected Sandals Resorts, you can find exclusive Rondoval Suites.
These Rondoval Suites come in both Beachfront and secluded Garden styles.
Featuring 20′ conical ceilings, private plunge pools with a waterfall, state-of-the-art architecture/design, and butler service, these suites define true luxury.
You can find Rondovals at:
Here is one of my favorite Rondoval Suites at Sandals Grande St. Lucian:

Over-the-Water Bungalow Villas
Those seeking nothing but the best will fall in love with the one-of-a-kind Over-The-Water-Bungalow villas – an exclusive feature at 3 Sandals resorts.
These come with 24-hour butler service and a water taxi, by default.
Featuring segmented glass floors to view the stunning sea life below your feet inside the villa, the ocean can be experienced from within your spectacular suite.
With balconies and Tranquility Soaking Tubs, you won't be wanting for anything in one of these remarkable accommodations.
These state-of-the-art water villas can be found at these resorts:

Butch's Chophouse
Let's admit it – there are a few of you out there just like me: people who choose their resort literally based off the quality and diversity of food.
While there's not enough room in this article to fully discuss dining at Sandals, there is a special restaurant that sits as my favorite and is very unique to Sandals.
This, my readers, is Sandals extremely famous Butch's Chophouse.
Named after the Chairman/Owner/Founder of Sandals & Beaches Resorts, Gordon "Butch" Stewart, this steakhouse embodies the Chairman's tastes and expectations for "the best."
From garlic-butter lobster tails served over filet mignon to truffle-infused mac & cheese, foodie lover paradise has arrived!
The only caveat?
This world-renown steakhouse is only available at a few selected top Sandals resorts. While you can get your steak and seafood on at all the resorts in different restaurants, you'll find Butch's at:
Pro tip: Due to stay-and-play features, guests at Sandals Royal Caribbean can also partake of Butch's at Sandals Montego Bay nearby.

Private Island
Does the sound of having access to a private island during your stay appeal to you?
Guests at Sandals Royal Caribbean have just this!
Visit this resort and you'll quickly meet the charm of this private island, which hosts a remarkable Indian restaurant, dancing and music, poolside bar and a boardwalk to the exclusive over-the-water bungalows.
Moreover, this private island even has a secluded nude bathing beach for both swimming and suntanning – something enjoyed by many adventurous couples!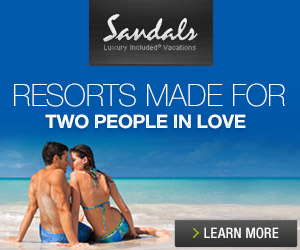 Personal Experience
I take great pleasure in personally inspecting these Sandals Resorts – at least once per 18 month period.
This allows me to not rely on brochures, client experiences, and hearsay, but to form my own recommendations and present these alongside published reviews.
I recently wrote an article on the best Caribbean all-inclusive resort. The winner?
For me, there are many innovative features shown above that make this resort stand out to me, giving it my #1 ranking.
It would come in just in front of Sandals Grenada, which you can see ranks #1 on the aforementioned TripAdvisor and Google reviews.
Because all the resorts are so similar in review rankings, I've created my own list for the best rated Sandals resort.
Summary
Managed to get through all of the above information?!
If not, not a worry. I'll summarize here.
Here are my key takeaways when looking for the best rated Sandals Resort:
I hope you have found this helpful!
If I can be of any assistance for helping you book your next Sandals or Beaches resort, do let me know.
You can click here to book now or contact me with any questions.
Paradise awaits!